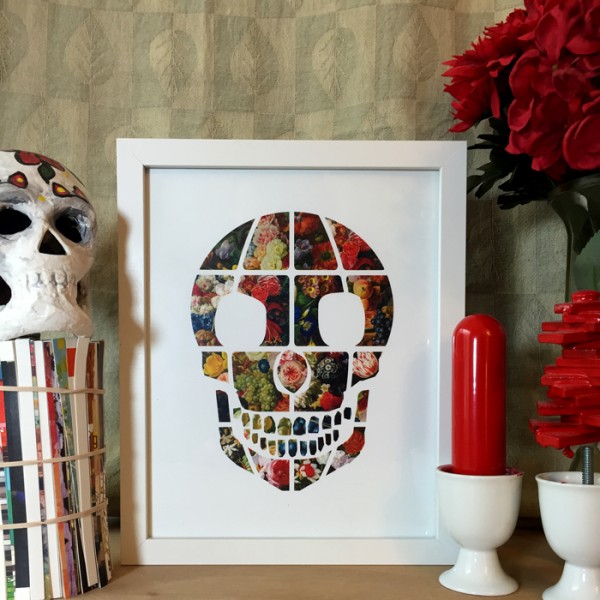 The Skull as Memento Mori
Since Hans Memling painted his triptych, Earthly Vanity and Divine Salvation, in 1485, artists have been using skulls as memento mori, reminding us to die. From Vincent Van Gogh's Skull of a Skeleton with Burning Cigarette to Andy Warhol's paintings of Philip Niarchos' CAT-scans to Damien Hirst's diamond encrusted For the Love of God, artists used the skull not only to remind us to die, but to die a beautiful death. We, in turn as a society, have come to celebrate the skull. It appears in our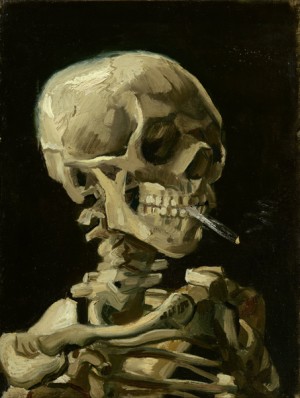 logos, on liquor bottles, as tattoos and other forms of decoration. We mock death. We dance with it. We elevate it to kitsch.
When the Polish composer and pianist André Tchaikowsky died in Oxford at the age of 46, he donated his skull to the Royal Shakespeare Company with the hope that one day it would be used as the skull of Yorick in a production of Hamlet. While the actors rehearsed with the skull, the general consensus of the company was that it was inappropriate to use Tchaikowsky's skull in live performances. This story reminds us that in spite of our culture revelry for skulls they continue to ferment a collective, primal fear of death. The notion that our deaths could be beautiful eases the dread.
Remember To Have a Beautiful Death is a collage of flower paintings by 18th Century Dutch painter Paul Theodor van Brussel. One of the last in a line of Dutch Renaissance painters–he was a student of Jean Augustin–van Brussel worked as a tapestry maker before becoming one of the greatest flower painters of his time. He died, unremarkably, in Amsterdam in 1795.
DETAILS
Remember To Have a Beautiful Death
by Ric Kasini Kadour
8"x10" print
2015
edition of 100
signed & numbered
$25 unframed | $50 framed