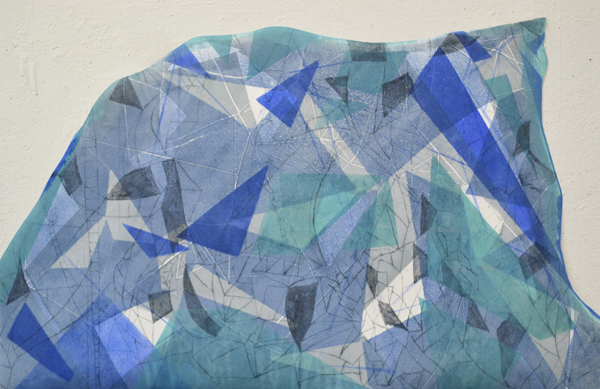 The installation in a box, Captain's Log by Katie Loesel, is the record of the artist's journey through an imaginary and personal utopia. It is the map of that place. It is a perfect example of how Loesel explores themes of geography, place, and memory in her work. ARTSHOP caught up with Loesel to ask her some questions.
ARTSHOP: Can you explain the idea behind Captain's Log?
LOESEL: Captain's Log is a series of small monoprints that are snapshots from a journey. They are sometimes memories, sometimes made on location; ephemeral studies evoking landscape. A floating sensation is created, wind and water are suggested. It is more about space than a specific place. Together they form a map, not necessarily one that can be followed, but one that is meant to be explored. The same experience cannot happen twice. They are a collective narrative that is open for the possibility of multiple, non-linear reads.
ARTSHOP: How were the original monoprints made?
LOESEL: A monoprint is a unique print made off a surface that cannot be duplicated. These prints were made through a series of layers printed off Plexiglas. Each piece of paper was sent through a printing press multiple times. The Plexiglas was covered in ink using a roller or paint brush. Then cotton swabs and cotton balls were dipped in oil and dragged, dripped, or drawn across the surface. Once sent through the press, the oil sometimes created surprise splattering or painterly effect that was then built upon in the next layer. Several pieces were worked on at the same time using a large sheet of Plexiglas.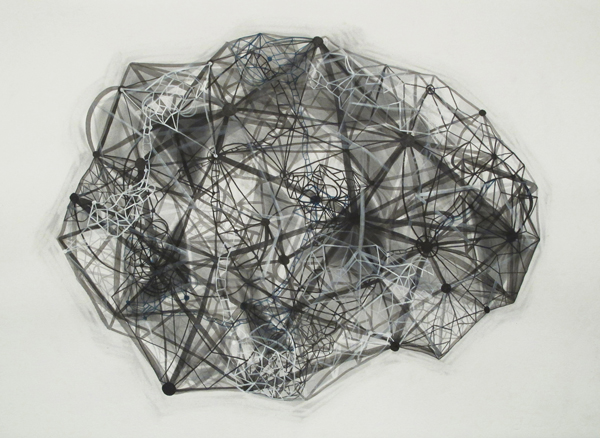 ARTSHOP: Why did you want to make this work?
LOESEL: The main inspiration for Captain's Log is my love of sailing, wind, and water. When you go out for a day sail, there is no destination, no path to follow. You just follow the best wind. The path that you create has never been followed in the exact same way that you are presently moving. You may cross over your path several times at the same point, or never at all. Charts and compasses are unnecessary if you do not have a destination. Your journey is unique. I create art to explore unknown places and spaces.
ARTSHOP: What are you working on these days?
LOESEL: My current body of work that explores ideas of piling, webs, and balance. Through worlds and structures comprised of geometric shapes, lines, and ladders, I explore just how much can be piled up before it falls down: jungle gyms, constellations, rocks, transmission towers, and mountains twist, climb, and interconnect. The use of cool colours with stark black and white, evokes an icy, wintry atmosphere reminiscent of glaciers, icebergs, rocky cliffs, and winter mountains. Geologic history within the work carries a cause and effect, creating connections that are marked, mapped, and layered. Size, height, and form work together to build a solid foundation that can teeter on the verge of collapse. A series of small drawings and a large sculpture will be included in an installation at Burlington City Arts in Fall 2014. Concurrently, I am also working on a large format intaglio plate which is a drypoint etching using a Dremel tool.
ABOUT KATIE LOESEL
Katie Loesel grew up on Lake Erie in Erie, Pennsylvania. She has a Bachelor of Fine Arts in Printmaking from The Cleveland Institute of Art in Cleveland, Ohio and a Certificate in Museum Studies from Tufts University in Medford, Massachusetts. She is also a sailor, crafter, gardener, hiker, cyclist, and lover of local food and drink. After living in Thailand and Boston, Katie recently moved back to Vermont to focus on her art. She tends to make prints, drawings, installations, and books, as well as creations on her sewing machine under the guise of Windy Seas. She recently completed a month-long artist residency at Vermont Studio Center. Katie has exhibited her work in Vermont and Massachusetts, as well as nationally.
Image (top):
Glacial World
by Katie Loesel
22″x30″
monoprint and intaglio
2014
Image (centre):
Constellation Rock
by Katie Loesel
22″x30″
ink and graphite
2014