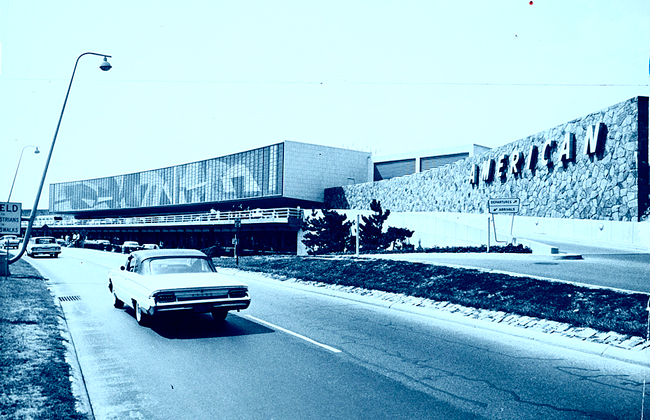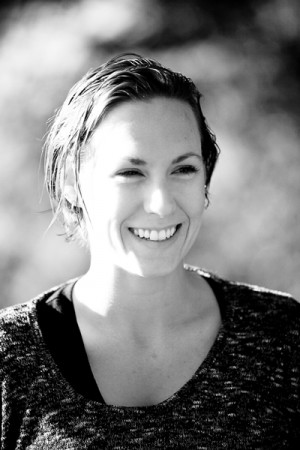 A Ribbon Pig interview with Jessica Hagy
"The more I wrote about the people I was seeing, the more I felt paranoid that one of them might notice, and bust me for eavesdropping so intently, for being such a sneaky voyeur."
Jessica Hagy's Here in Line for Security is a collection of poetry portraits written while stranded at JFK International Airport during a Nor'Easter that paralyzed the East Coast in 2012, only two weeks after Hurricane Sandy. Hagy, who has made a career out of turning ideas into simple illustrations, brilliantly distills imagined narratives into tight, smart poems. The result is a survey of the people who make up contemporary life; the people we see as we rush about our day; and their imaginary stories.
Hagy mixes philosophical concepts with humor and simple visuals, making even the most complex concepts immediately accessible and relevant. She is best known for her Webby Award-winning blog, Indexed. She is the author of the best-selling book, How To Be Interesting (Workman, 2013), Rotisserie Chicken or the Founding Fathers (Chronicle, 2009), and Indexed (Penguin/Viking, 2008). Her work also regularly appears in the New York Times, Readers' Digest, online for Medium, in her online column for Forbes, and in many other major outlets. Here In Line For Security is her first book of poetry.
We asked Hagy some questions:
Why do you write?
I write to help myself think through ideas. I can read and observe and experience things, but writing them down helps me really digest them. To me, seeing is feeling. Writing is unpacking what I see.
How did Here In Line for Security come about?
I was stranded at JFK airport one Fall day in 2012, right after Hurricane Sandy swept through. I had hours and hours to sit and observe people. That people watching turned into notes in a file, and those notes turned into poems—little biographies based on nothing but eavesdropping.
Did you speak or have any interaction with the people you were writing about?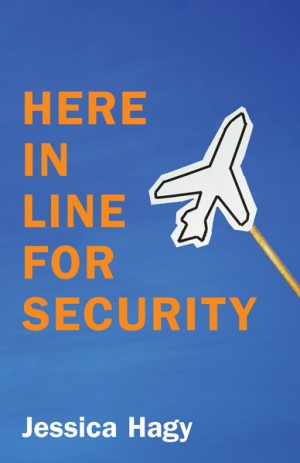 I didn't. My research was very detached. It was very National Geographic, observing the behaviours of subjects in the wild, not interfering lest I ruin the narrative. To anyone observing me, I looked like any other business traveller pecking away on a laptop.
I had that feeling of being stuck in traffic, when you see long lines of cars and realize that every driver has a destination, a story, a personality, and traffic is really just a crowd separated by metal casings. In the airport, there so many interesting people in an awkward and trying situation, out of their elements, out of their contexts. What the wore and how they fidgeted, how they reacted to announcements of delays, little fragments of conversations—those were my only clues about what kind of characters they might be.
What other seemingly mundane place would you like to spend two weeks where all you had to fill the time was write?
I would want to try this experiment again in a foreign airport—a hub somewhere that floods with people from every corner of the known universe. Not being able to understand the words that float around me would force me to imagine even more about the strangers, and let me concoct even more adventurous stories for them.
If someone else was watching and writing about you in the airport, how would they write about you?
They'd probably would have thought I was guilty of something terrible, maybe fleeing the scene of some white collar crime or sneaking off to a secret meeting. I was fidgety, always moving from one seat to another, and looking over my shoulder a lot. The more I wrote about the people I was seeing, the more I felt paranoid that one of them might notice, and bust me for eavesdropping so intently, for being such a sneaky voyeur.
What are you working on these days?
I just finished another book that will be released in March 2015: The Art of War, Visualized. I poked and prodded Sun Tzu's original text on war, and illustrated it with graphs and charts to bring it into the modern era, and to examine what conflict and diplomacy really means. I'm also trying my hand at a children's book about a girl whose dreams come true—it's shaping up to be rather dark and spooky. And for a day job I'm a freelancer. I write articles and draw cartoons from my very cluttered office in Seattle, Washington.