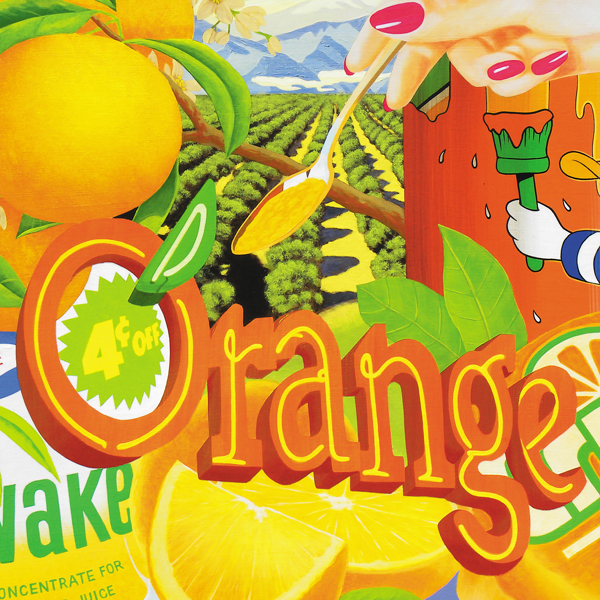 Kasini House ARTSHOP announces
the release of :
The Orange Series
print by XRAY
The Orange Series by XRAY is a straightforward series of pop paintings that reflect on the artist's childhood in Florida. XRAY fills the paintings with references to colors, flavors and brands that remind him of happy childhood memories. They combine a hyper-realistic painting style with a seemingly impromptu composition that uses the visual language of collage to throw an endless, happy galaxy of appropriated brands and imagery at the viewer.
"The Orange Series" 1, 2, 3
by XRAY
11.5" x 15.5"
unframed
Edition of 50, numbered
$25 each
ABOUT XRAY
Based in Montreal, XRAY is a street and fine artist who has exhibited widely in group and solo shows in Quebec and Florida. In the past few years, he has exhibited at Fresh Paint Gallery, Station 16, Galerie D, and L'Espace Créatif in Montreal. He has participated in a number of live painting events: Just for Laughs, Fresh Paint, and Decover Magazine's "Expo les Refuses". As a member of CEASE Collective, he has worked on several installations and murals. In 2006, the Orlando Museum of Art recognized him with an Emerging Artist Prize. He won the People's Choice Prize at Universal's International Art Fair (Universal Studios, Orlando) in 2006 and Best of Show at La Virée des Ateliers 2010 (The Grover Building, Montreal). His commissioned work includes projects in Florida and Canada. His work is collected in private collections in Canada.
He takes inspiration from military insignia, nature, skateboard and tattoo art, old signs, tarot cards, Native cultures, "secret society" symbolism, Japanese art, propaganda, diagrams, videogames, the 1980s, science, action movies, vintage advertising, and cartoons. "I see my paintings as modern totems wherein I use corporate aesthetics to 'advertise' spiritual and existential themes," said the artist. "The exaggerated use of color and shapes is reminiscent of the toy and candy advertisements that I grew up with."
XRAY paints using hand techniques, but is influenced by what he calls the "computer-graphics age". The work is generally a combination of brush and spray painting. He often finishes his gallery work with ultra-glossy resin to achieve the most "plastic", manufactured look possible.