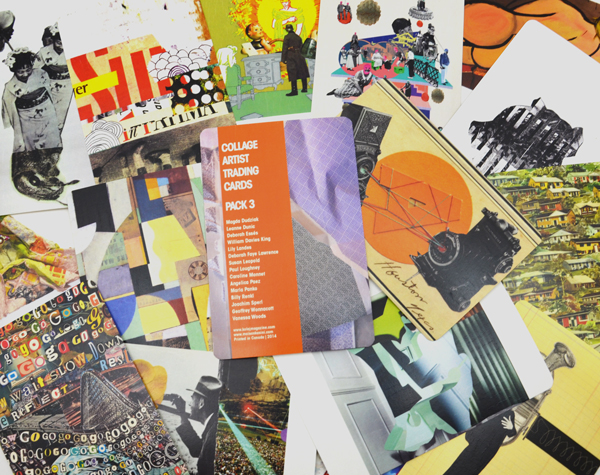 Kasini House Artshop presents the next set of Collage Artist Trading Cards: Pack 3!
Working with the Kolaj Magazine Artist Directory, we present the third iteration of these curated Artist Trading Cards. For over three years, we have been plugged into an international community of collage artists. And with so many people doing incredible work, we decided someone needed to start treating them like the All-Stars that they are. There is no better way to commemorate an All-Star than putting them on a trading card. The idea of Collage Artist Trading Cards was born.
Each card is a full colour, 5.5" x 3.5" postcard with rounded corners. An example of an artist's work is on the front of the card and the artist's public contact information is on the back. Collage Artist Trading Cards come in packs of 15.
You can frame the cards you like as mini-prints; collect and curate your very own exhibition. You can also use the cards for discovering contemporary, fine art collage. We think they are a great way to be introduced to the artwork of collage artists.
Pack Three features artists from Canada, Germany, the United Kingdom, and the United States, and, as always, includes a diverse selection of collage practice.
You can also purchase Packs One and Two and complete the set: Collage Artist Trading Cards, Pack One and Collage Artist Trading Cards, Pack Two.
Collage Artist Trading Cards, Pack Three
5.5″x3.5″ | 15 full-colour postcards with title cards in clear plastic bag | 2014 | Published by Kolaj Magazine | Printed in Canada
$10.00
Special: Order all three packs and save $5.
Magda Dudziak, Chicago, Illinois, USA | Leanne Dunic, Vancouver, British Columbia, Canada | Deborah Essés, London, United Kingdom | William Davies King, Santa Barbara, California, USA | Lily Landes, Brooklyn, New York, USA | Deborah Faye Lawrence, Seattle, Washington, USA | Susan Leopold, Toronto, Ontario, Canada | Paul Loughney, Brooklyn, New York, USA | Caroline Monnet, Montreal, Quebec, Canada | Angelica Paez, Houston, Texas, USA | Marla Panko, Dundas, Ontario, Canada | Billy Renkl, Clarksville, Tennessee, USA | Joachim Sperl, Hamburg, Germany | Geoffrey Wonnacott, Kinburn, Ontario, Canada | Vanessa Woods, Los Angeles, Calfornia, USA