Over the weekends of July 25-27 and August 1-3, 2014 Kasini House's Instant ARTSHOP will be at Marché des Possibles in Montreal's Mile End district.
Marché des Possibles
in the park just north of the Arena Saint Louis
5550-5572 avenue Casgrain
Mile End
Free entry
Among the items on offer are Peter Wears An Ugly Housecoat, Kasini House Art Cards, Ready-to-Think Goo, Love Guns & Other Weapons of Affection, Kolaj Magazine, buttons, collage, prints, art catalogs, and other art products and ephemera.
Marché des Possibles is a pilot project between POP Montreal and the Plateau-Mont Royal borough and is taking place every weekend, July 11-August 31. Instant ARTSHOP will be on hand, Friday, July 25, 3-8PM; Saturday, July 26, 11AM-8PM; Sunday, July 27, 11AM-7PM; Friday, August 1, 3-8PM; Saturday, August 2, 11AM-8PM; and Sunday, August 3, 11AM-7PM.
Marché des Possibles offers refreshments, street food, art and craft, farm produce, family activities, music, film, a festive and community spirit, and more. The market is adjacent to a shady, grass-covered urban park.
Learn more about the market on their Facebook page and website.
What is Instant ARTSHOP?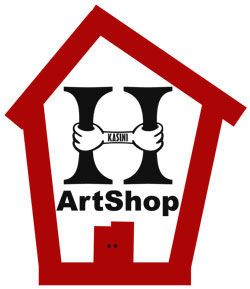 Instant ARTSHOP is all about bringing contemporary art to everyday people. We do this by setting up an on-the-spot shop in a variety of locations around North America. ARTSHOP sells small art products and ephemera at accessible prices. Instant ARTSHOP is also an opportunity for us to network with local artists and converse about making accessible contemporary art either with us or independently. We are all about finding ways of making contemporary art accessible to the broadest possible audience. We want people to buy art, own art, live with art in their home. We also want artists to join us, to break out of the gallery model and sell art to people where they live work and play.