Saturday, August 23, 2014 Kasini House's Instant ARTSHOP will be at Wall-to-Canvas 5 at the Magic Hat Artifactory in South Burlington, Vermont.
Magic Hat Artifactory
5 Bartlett Bay Road
South Burlington, Vermont 05403
$5 admission
Among the items on offer are Peter Wears An Ugly Housecoat, Kasini House Art Cards, Ready-to-Think Goo, Love Guns & Other Weapons of Affection, Kolaj Magazine, buttons, collage, prints, art catalogs, and other art products and ephemera.
Proud to be in its fifth year, Wall to Canvas is an annual live art competition hosted at Magic Hat's unique South Burlington Artifactory. Magic Hat has been putting a performance in every bottle of craft brew since 1994 and The Shelburne Craft School is where craft has been made in Vermont, since opening back in 1945. Together they create an event that boasts cold beers, fresh art, live music, and an opportunity to take a piece of it all home with you!
Learn more about Wall-t0-Canvas on their Facebook page and website.
What is Instant ARTSHOP?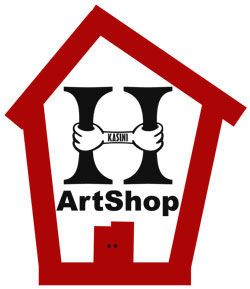 Instant ARTSHOP is all about bringing contemporary art to everyday people. We do this by setting up an on-the-spot shop in a variety of locations around North America. ARTSHOP sells small art products and ephemera at accessible prices. Instant ARTSHOP is also an opportunity for us to network with local artists and converse about making accessible contemporary art either with us or independently. We are all about finding ways of making contemporary art accessible to the broadest possible audience. We want people to buy art, own art, live with art in their home. We also want artists to join us, to break out of the gallery model and sell art to people where they live work and play.