Friday, September 19 through Sunday, September 21 Kasini House's Instant ARTSHOP will be at the Puces POP DIY Fair at Église Saint-Denis, 5075 rue Rivard, in Montreal.
Puces POP DIY Fair
Église Saint-Denis
5075 rue Rivard (across from the Laurier Metro station)
Montreal, Quebec H2J 2N9
Free admission
The hours of the event are: Friday, 2-8PM; Saturday, 11AM-6PM; Sunday, 11AM-6PM.
Among the items on offer are the "Orange Series" by XRAY, Peter Wears An Ugly Housecoat, Kasini House Art Cards, Ready-to-Think Goo, Love Guns & Other Weapons of Affection, Kolaj Magazine, buttons, collage, prints, art catalogs, and other art products and ephemera.
Puces POP was born in 2004 with the desire to bring together the extremely talented scene of designers, crafters and artists that Montreal harbours in one marketplace. As part of the POP Montreal festival, Puces POP has become an indispensable platform for the designers, artists and artisans who participate, allowing them to experience unparalleled exposure to 8,000 visitors each weekend!
Learn more about Puces POP on their Facebook page and website.
What is Instant ARTSHOP?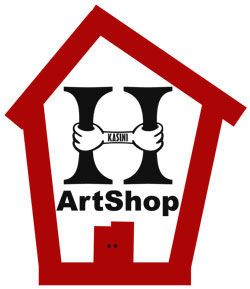 Instant ARTSHOP is all about bringing contemporary art to everyday people. We do this by setting up an on-the-spot shop in a variety of locations around North America. ARTSHOP sells small art products and ephemera at accessible prices. Instant ARTSHOP is also an opportunity for us to network with local artists and converse about making accessible contemporary art either with us or independently. We are all about finding ways of making contemporary art accessible to the broadest possible audience. We want people to buy art, own art, live with art in their home. We also want artists to join us, to break out of the gallery model and sell art to people where they live work and play.