On Wednesday, September 28th, 2011, Seth Rogen was on Conan, an American late-night talk show hosted by Conan O'Brien to promote the movie 50/50. A centerpiece of the interview was a discussion of the book of drawings, Seth by Christopher Schulz, available online at Kasini House ARTSHOP and at Galerie Maison Kasini in Montreal.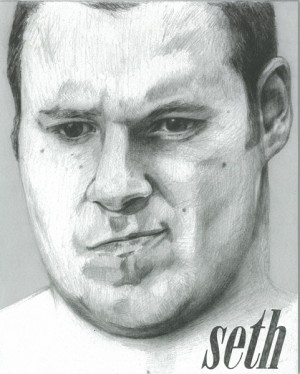 Seth is a fantasy on Seth Rogen in the form of a collection of black-and-white drawings. Christopher Schulz is the creator of Pinups and an artist, formerly of New York City, who is soon to be based in Los Angeles.
In the drawings, Schulz presents drawings of Rogen naked and in a provocative manner. The drawings are the artist's fantasy of the actor.
"I'm a muse in the creative community of the bear-loving world, like the Venus de Milo perhaps," said Rogen during the interview.  Rogen and host Conan O'Brien go on to show images from the book while Rogen comments on the images. "I call that one Come and Get Me," said Rogen.
Conan airs Monday through Thursday on TBS in the United States and on The Comedy Network in Canada. The show follows a traditional late-night talk show format and features interviews with political figures and celebrities. It is hosted by Conan O'Brien.
Seth, like Pinups, represents a trend in contemporary art where creators are making and distributing images in small, accessible formats. Gay men are pioneering this trend and using vehicles like 'zines to distribute cultural product that speaks to their experience.
"They hit on the right formula at the right moment, which was to deal with the gay world as if it were just part of the world at large, with its own heroes in every field—from porn stars to authors to artists," explained AA Bronson to New York Magazine. "They're something you don't buy and read and throw away. You end up keeping them in plastic envelopes, even though they're kind of cheap."