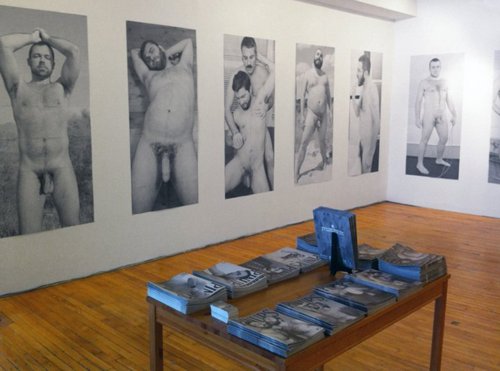 Pinups is a fresh take on the notion of the Pin Up Girl, as embodied by Betty Grable in the 1940s. But these Pin Ups are men. And not the airbrushed, pumped up men of contemporary advertising, but men with facial and body hair, men with bulk, and men together.
"Pinups is a gorgeous, smart, tender new magazine that shows the beauty of everyday gay men. The aesthetic has been called 'post-bear,' but it's actually very 1970's. It reminds me of After Dark and New York City gay street culture in the early days of Gay Liberation. Pinups is also, really, a very smart piece of conceptual art pretending to be a magazine."
Pinups is a triannual publication that features one male nude pictorial per issue. There are no words—just an exaggeration of the classic centerfold. Each magazine exists in book form but can be taken apart and tiled to reveal a 32" x 70" image. The magazine is printed in New York. Created by Christopher Schulz.
Born and raised in Phoenix, Arizona, Schulz began working with printed matter at a young age—creating albums for the sake of making the album art. He worked in j-card design, and later in zines.
"Growing up, all I had was imagination and a Xerox machine at my fingertips. I'd imagine my work on a large scale. Mass distribution was a big dream for little me," said Schulz
He attended The School of the Art Institute of Chicago where he dabbled in various concentrations, exploring lighting design, printmaking, and graphic design—all of which came together in his current project, Pinups—a conceptual photo-based periodical. Schulz lives and works in Brooklyn, New York.
The publication is part of a trend:
These are downsizing, belt-tightening times for much of the media industry. But somewhat incongruously, New York–based gay magazines are thriving. "I've never seen anything like this before," says AA Bronson, director of Printed Matter and co-editor of Queer Zines, an encyclopedic history of the genre released this fall. "The seventies saw the first rise in 'zine culture, and then again in the mid-eighties, when the plain-paper copier made life easier. But the last few years have definitely been a new phenomenon." Bronson credits Butt magazine, founded in Amsterdam and now edited in New York, with influencing a new generation of titles that are at once arty and dirty. "They hit on the right formula at the right moment, which was to deal with the gay world as if it were just part of the world at large, with its own heroes in every field—from porn stars to authors to artists." And despite the economy, sales at Printed Matter are strong. "They're something you don't buy and read and throw away," says Bronson. "You end up keeping them in plastic envelopes, even though they're kind of cheap."
from New York Magazine
In October 2010, Galerie Maison Kasini hosted the launch of Pinups #13. MORE
In Summer 2011, Christopher Schulz released Seth, a fantasy on Seth Rogen in the form of a collection of black-and-white drawings.
In September 2011, Seth Rogen talked about Seth by Pinups creator Christopher Schulz. MORE