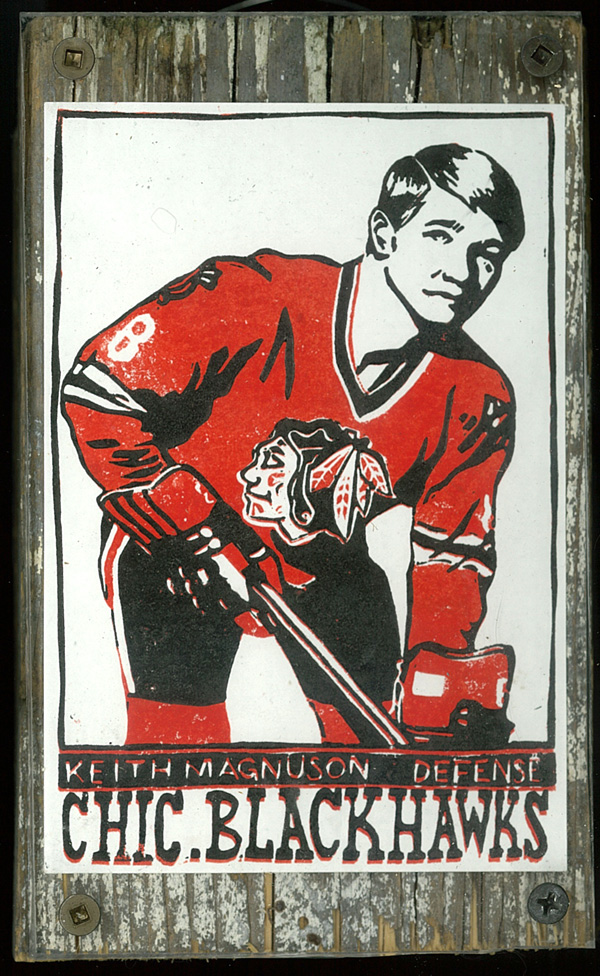 They walk on water with fire in their hearts and ice in their veins. They play a game that Jim Murray called Murder on Ice: High sticking, tripping, slashing, spearing, charging, hooking, fighting, unsportsmanlike conduct, interference, roughing… everything else is just figure skating. These are the Hunks of Ice.
Marie-Maude Polychuck presents a dozen of hockey's greatest players in two-color linocut on paper and mounted to old barn wood under plexiglass. The line up: Minnesota North Stars Left Wing Bob Barlow and Center Charlie Burns, Philadelphia Flyers Center Bob Clarke, Chicago Blackhawks Left Wing Bobby Hull and Defense Keith Magnuson, Boston Bruins Defense Bobby Orr, Center Phil Esposito, and Left Wing Johny Bucyk, Detroit Red Wings Left Wing Frank Mahovlich and Right Wing Gordie Howe, Toronto Maple Leafs Left Wing Paul Henderson, Montreal Canadiens Goalie Rogatien Vachon. The images evoke vintage NHL trading cards.
CLICK IMAGE TO VIEW
Chicago Blackhawks Defense Keith Magnuson (born April 27, 1947 in Saskatoon, Saskatchewan; died December 15, 2003) played 589 career NHL games, all with the Chicago Blackhawks. Although he didn't score many goals, he was a part of a solid defensive team with the Blackhawks. Perhaps his most telling statistic is his 1,442 career penalty minutes. On November 12, 2008, the Blackhawks retired Magnuson's number 3.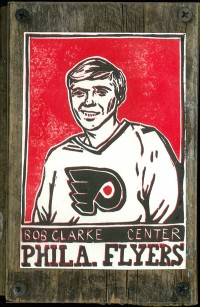 Philadelphia Flyers Center Bob Clarke (born August 13, 1949 in Flin Flon, Manitoba) played his entire NHL career with the Philadelphia Flyers. A talented playmaker, he had three 100-point seasons, twice led the league in assists, and played in eight NHL All-Star Games. He was also a great defensive player, a great checker, and one of the best in the face-off circle. One of the game's great leaders, Clarke was the captain of the notorious Broad Street Bullies during their heyday in the mid-1970s. The Bullies were a reflection of their captain, who had a tireless work ethic and a strong will to win even if it meant breaking the rules. The latter, some say, is exemplified best by Clarke's infamous slash to the ankle of Valeri Kharlamov during the Summit Series in 1972, which is still a source of controversy to the present day.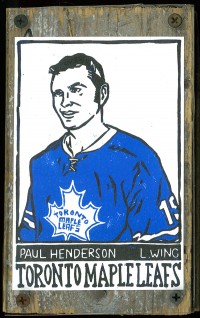 Toronto Maple Leafs Left Wing Paul Henderson (born January 28, 1943 in Lucknow, Ontario) played 13 seasons in the National Hockey League for the Detroit Red Wings, Toronto Maple Leafs and Atlanta Flames. He is best known for scoring the winning goals in the last three games of the 1972 Summit Series against the USSR, the final one winning the series for Canada.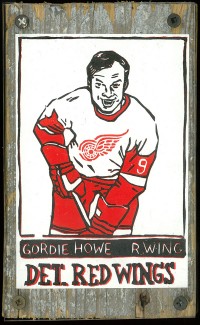 Detroit Red Wings Right Wing Gordie Howe (born March 31, 1928 in a farmhouse in Floral, Saskatchewan) was referred to during his career as Power, Mr. Everything, Mr. All-Star, The Most, The Great Gordie, The King of Hockey, The Legend, The Man, No. 9, and "Mr. Elbows" (for his tough physical play). His name and nickname, "Mr. Hockey", as well as his wife's nickname as "Mrs. Hockey", are registered trademarks. Using his great physical strength, he was able to dominate the opposition in a career that spanned five decades. In a feat unsurpassed by any athlete, in any sport, Gordie Howe finished in the top five in scoring for twenty straight seasons.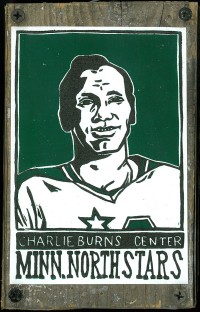 Minnesota North Stars Center Charlie Burns (born February 14, 1936 in Detroit) played 749 games in the NHL. In 1959, he was the only US-born player in the NHL. Burns was mainly known for being an excellent skater, playmaker and defensive player who performed checking and penalty-killing. His trademark was the heavily padded helmet that he was forced to wear after suffering a serious head injury while playing junior hockey in 1954–55.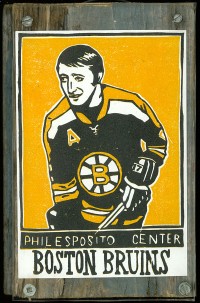 Boston Bruins Center Phil Esposito (born February 20, 1942 in Sault Ste Marie, Ontario) played 18 seasons in the NHL. His Boston fans printed and displayed bumper stickers during his best years to celebrate his scoring: they read, "Jesus saves, Espo scores on the rebound." Esposito, while not a fast or graceful skater, was best known for his unmovable presence in front of the opposition net from which he could score from all angles. Esposito has said: "Scoring is easy. You simply stand in the slot, take your beating and shoot the puck into the net."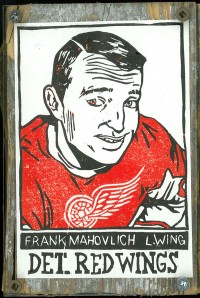 Detroit Red Wings Left Wing Frank "The Big M" Mahovlich (born January 10, 1938 in Timmins, Ontario) played on six Stanley Cup-winning teams and is an inductee of the Hockey Hall of Fame. In 1998, Mahovlich was appointed to the Senate of Canada by Prime Minister Jean Chrétien, and in the same year, he was ranked number 27 on The Hockey News' list of the 100 Greatest Hockey Players, the highest-ranking player who had spent at least a majority of his career with the Maple Leafs.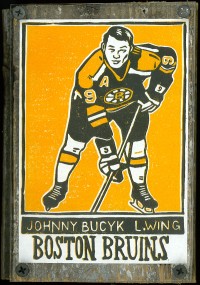 Boston Bruins Left Wing John "Chief" Bucyk (born May 12, 1935 in Edmonton, Alberta) has been a member of the Boston Bruins' organization for an unprecedented fifty consecutive years. Despite his reputation for devastating hip checks, he was a notably clean player Bucyk ended his playing career after the 1978 season, after which the Bruins retired his number #9 jersey. He scored 545 goals as a Bruin, the most in franchise history.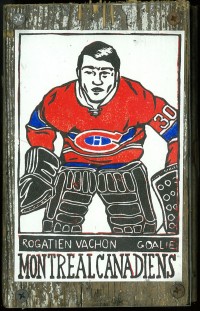 Known for his great reflexes and quick glove hand, Montreal Canadiens Goalie Rogatien Vachon (born September 8, 1945 in Palmarolle, Quebec) was considered one of the premier one-on-one goaltenders of his era. He never allowed a goal on a penalty shot in his entire career. Internationally, Vachon was the starting goaltender for Canada's 1976 Canada Cup team where he achieved a record of 6 wins and 1 loss, with 2 shutouts and a sparkling 1.39 goals against average. Canada captured the championship with a two-game sweep of Czechoslovakia, and Vachon was named best goaltender of the tournament and Canadian MVP.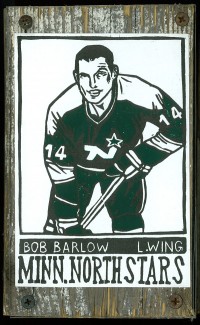 Minnesota North Stars Left Wing Bob Barlow (born June 17, 1935 in Hamilton, Ontario) played in 77 NHL games with the Minnesota North Stars over parts of two seasons. On October 12, 1969, at the age of 34, Barlow made his NHL debut as a member of the Minnesota North Stars; becoming the oldest rookie to play a game in NHL history.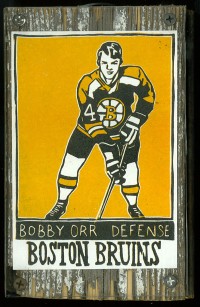 Boston Bruins Defence Bobby Orr (born March 20, 1948 in Parry Sound, Ontario) is widely acknowledged to be one of the greatest hockey players of all time. Orr won two Stanley Cup championships with the Bruins when Boston defeated the St. Louis Blues in the 1970 Stanley Cup Finals in four games and the New York Rangers in the 1972 Stanley Cup Finals in six games, scoring the clinching goals in both series, and was awarded the Conn Smythe Trophy as the playoff MVP both years. He also led Boston to the 1974 Stanley Cup Finals where they were defeated by the Philadelphia Flyers in six games.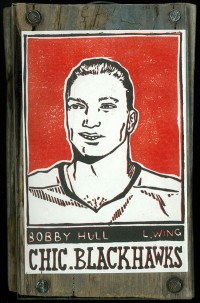 Chicago Blackhawks Left Wing Bobby Hull (born January 3, 1939 in Pointe Anne, Ontario) is regarded as one of the greatest ice hockey players of all time and perhaps the greatest left winger to ever play the game. Hull was famous for his blond hair, blinding skating speed, and having the fastest shot, earning him the nickname "the Golden Jet". He possessed the most feared slapshot of his day. Hull was elected to the Hockey Hall of Fame in 1983.
Marie-Maude Polychuck is a multidisciplinary artist working in, drawing, printmaking, photography, installation… and whatever she can get her hands on. Her work is strongly influenced by comic books, street art, punk-rock/no-wave, D.I.Y. ethics, Andy Warhol and pop culture in general. Using mainly -if not exclusively- found material to create her works is a crucial aspect of her artistic approach. Thus, her work reflects a charm both vintage and contemporary. Marie-Maude has participated in solo and group exhibitions in Quebec and the United States, and was recipient of the André Michel prize for emerging artists in 2008, at the Museum of Fine Arts of Mont-St-Hilaire.