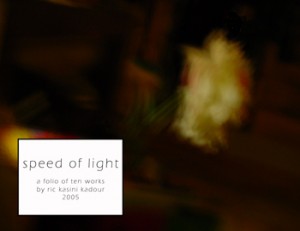 Ric Kasini Kadour is a writer and artist. He lives in Montreal, Quebec.
Kadour primarily creates art as a photographer. After spending his early years painting, then taking an extended hiatus from artmaking, Kadour returned to making art in 2000 as a photographer interested in exploring light, colour, and abstraction.
Kadour's series of photographs, "Boring", debuted at in Toronto in November 2005. Part social documentary and part creative portraiture, Kadour's photographs use visual strategies typically reserved for abstract painting. Other series of photographs include the abstract "Speed of Light"; "Urbania", which explores the imagery of urban landscapes settings; and M Series, which examines the psychology of portraiture.
In 2006, Kadour release an artist book, Art Is Food. The text ofArt is Food was originally presented as an introduction to "Art Town Meeting," a community forum held at Nectar's Upstairs in Burlington, Vermont on February 28th, 2006. In the summer of 2006, Kadour illustrated the text. A hand-pulled screen print was made in Montreal, Quebec in August and September 2006. The edition was limited to fifty.
In 2008, Kadour released a follow-up to a 2003 series "Speed of Light: More Speed of Light", which continue his exploration of abstraction and motion, and a body of work titled, "Day and Night", that pushed the edge of whiteness and blur.
Kadour began exploring installation work in 2007 with the impromtu piece All Crap Left On Lawn Will Become Art that was installed at 64 North Street in Burlington, Vermont. In June 2008, the City of Montpelier, Vermont commissioned Kadour to make an installation in the lawn of the Vermont Supreme Court building. SpyderCycle: Stabilimentum is a two-part project. The first part was a sculptural installation in situ made of bicycle parts and stainless steel chain. The web and bicycle parts were adapted to the location. A larger-than-life spider orb web suspends between the limb and trunk of a tree and the ground. Suspended in the web are parts of a bicycle. The bicycle is not prey trapped in the spider's web, rather it is offered as a Stabilimentum, or spider web decoration. Spiders often include stabilimenta in their web as a means of attracting prey or disguising themselves. The second part of SpyderCycle: Stabilimentum is a suite of ten photographs of the installation in the style of "Speed of Light."
His current project, Unboxed Light, is a room-sized installation. A wooden box, white on the inside, black on the outside, hovers approximately twelve inches above the floor. Dozens of multi-coloured strings emanate from the box. Two lights project shadow of the string on the walls around the box. The installation is a meditation on light, colour, and shadow. Like his other installations,Unboxed Light is meant as a subject for his photography.
In recent years, Kadour has exhibited work in Montreal, Toronto, and Vermont. His work is in private collections in Montreal; London, England; Toronto; Seattle; Provincetown, Massachusetts; Washington, DC; and Chatham, New Jersey.