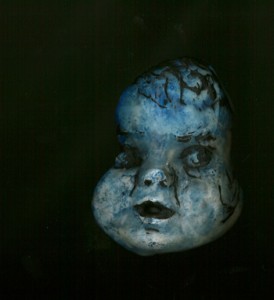 Catherine Hall's encaustic and wax creations are about "childhood without the nostalgia".
Among the artists who have influenced her work are Kiki Smith, Annette Messager and Louise Bourgeois – not only in their imaginative subjects but also in their use of all kinds of non-traditional art materials. Hall's moulding materials vary from moulage and latex rubber to silicone; her casting materials range from humble and ancient papier maché to plaster and the more recent polymer Fortin. She works on a piece until it appears to contain an expression and spirit of its own.
Catherine Hall was born in England and attended art school in Manchester before earning a Joint Honors B.A. in English Literature and History of Art. She came to the United States on a fellowship for graduate study, earning an M.A. in Art History from the State University of New York at Binghamton and an MFA in Visual Arts from Norwich University. She taught Art History and Studio Art at Trinity College of Vermont from 1971 to 1998, and was an active member of the Humanities Department there, helping develop courses in an interdisciplinary Comparative Cultural Studies Major in U.S/Canadian Cultural Studies and U.S/Latin American Studies. While chairing the Humanities Department from 1993 to 1996 she was instrumental in developing an interdisciplinary major in Craft Arts Entrepreneurship in collaboration with Trinity's Business Department, the Shelburne Craft School and Shelburne Museum. She was on the faculty of the MFA in Visual Arts program at Vermont College from 1999-2004, and served as Interim Director from 1999-2000. During this time she wrote the Accreditation Report for the program. She is currently teaching at St. Michael's College. Catherine has also taught at the University of Vermont, Vermont Community College, and in a study abroad course in Greece, under the aegis of Castleton State College.
In her art career, Catherine works in media including painting, sculpture and installation. She has exhibited extensively throughout the eastern U.S. as well as in England. She has received fellowships from the Vermont Arts Council, National Endowment for the Humanities, Vermont Studio Center and the Ucross Foundation, and has completed numerous commissions including an award-winning "percent for art" project for the State of Massachusetts, and the banners that hang over Church Street in Burlington. Catherine has taught study abroad courses in Mexico, Spain and Greece and in 2003 was external evaluator for an MFA program in Auckland, New Zealand. In 2005 she was a co-founder of the artists' cooperative gallery at 215 College Street, the site of her former studio. She was the recipient of the 2006 Barbara Smail Award, given both in recognition of her artwork and of service to the community.