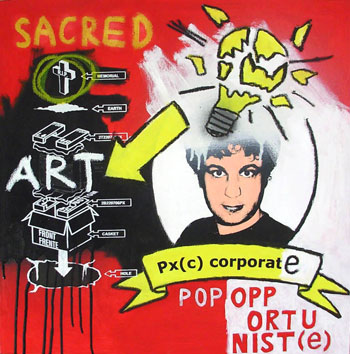 interview by Ric Kasini Kadour
Ben Depelteau is a one man corporation. He was the force behind the collaborative project, noworkshop. He now offers Appliance Catastrophes, a new series of one-of-a-kind collages that commemorate the tragedy of everyday.
Px(c) is the artist's corporate alter-ego. It first appeared in the 1999 painting You never know when you'll need Px(c), as a car parts brand name. Px(c) has been known, over the years, to mimic advertising strategies to sell dysfunctional products and ideas to people. Its catalogue includes car parts, eyes, fingers, tongues, sunglasses, do-it-yourself art, concepts for gallery art, mouse traps, packages and some collages and prints.
By presenting himself as the corporate entity, Px(c), Depelteau makes a cultural statement about the dominance of commercial culture in everyday life. ARTSHOP sat down with him and asked him what all that was about.
ARTSHOP: Px(c) is an alter ego, of sorts. Why did you choose a corporate entity?
BEN: I don't have anything to sell. My name would not make a good brand name for car parts or eyes or tongues or body parts or anything. What I do needs a brand to have some credibility as a product. I didn't want to use existing brand names, because of copyright reasons and because it did not fit the concept, because there are no human part brand names existing, because nobody sells them.
ARTSHOP: Why is it important to have a brand?
BEN: I'm working a lot with advertising style imaging. When I take an image from some place and a slogan from another place and I recompose an image that makes absolutely no sense, I still want it to look like a publicity thing sometimes. Having a brand makes it more real. Having a brand for all of those projects and all this work is just bringing the concept/idea together. I think it wraps it really well.
ARTSHOP: How did the name come about?
BEN: The real origin of the word…once my friend Simon was piling up some tires in school to do a sculpture. The next step was to paint some Valvoline and Pennzoil logos on it. We figured out that we should invent a new brand name that didn't exist to have people think…"hmm, what's that?" We started up and made a P and then the tire fell down on the paint that Simon had and when we piled up the tires again there was this splash of white paint just beside the P that made an X, so it became PX. From then, both of us used PX for a couple of years. It became our band when we did music. Our band name was PX. We continued to make crazy products, nonsense, stupid ideas, packages and all of the PX things. It was in 1999. The tire might have been at the end of 1998. Around that time. Then Simon stopped making art, which is really sad, because we were working together. We had been working together for a lot of years. Then we stopped. What is interesting is that during 4 years, the PX name was referring to both of us, but when he stopped, I continued with PX. That's basically it. That's the story of PX.
ARTSHOP: Marketing is a very dominant force in North American culture, for better or for worse. What is your take on that?
BEN: I don't like the fact that everything we see, every message we get is already telling us how to think, how we should think, showing us the way. Of course, for commercial reasons only. I refer to the idea of "prêt à penser". Everything has already been arranged and they are giving an opinion that you can repeat to your friends at dinner. This whole idea is for people to buy some crap.
Benoit Depelteau was born in 1977 in Montréal where he continues to live and work. He earned a Baccalauréat en arts visuals from L'Université du Québec à Montréal in 2001 and opened a collective studio in September 2003. In 2004, Fading T.S.F and Preventorium Rd. #2 were published in Nor: Ideas of North with events in Montréal and Toronto. In 2005, the Montréal band Dook used Quadra in the packaging for their Archaic CD. Ben's work is available through Kasini House ArtShop.